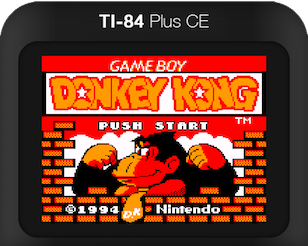 Ça y est! Enfin! Après tant d'attente et de teasers
depuis ≈2 ans
, le programme qui risque de devenir le plus téléchargé sur le long terme est sorti publiquement, dans une première version alpha

On parle bien sûr de
TI-Boy CE
, l'émulateur
Game Boy
pour TI-83 Premium CE / TI-84 Plus CE, programmé par le célèbre Brandan "
calc84maniac
" Fletcher, auteur déjà d'autres émulateurs sur plusieurs calculatrices TI (z80, Nspire...).
Particularité de cette version CE
(comme sur les z80, mais pas comme sur Nspire)
, sa programmation est réalisée entièrement en assembleur (ici, eZ80) écrit à la main, défi technique absolument remarquable de part sa complexité, que calc84 a définitivement remporté autant au niveau de la performance que de la fidélité (émulation la plus proche possible du matériel de la console).
Et bonus, contrairement aux autre
TI-Boy
, le code source est disponible
sur GitHub
(licence: GPLv3) !
Récapitulatif des fonctionnalités de l'émulateur
:
Emulates original Game Boy hardware (except audio and linking)
Emulates real-time clock for certain cartridges
Save states with compression
Fullscreen and 1:1 scaling modes (with optional skin)
Automatic and manual frameskip
Turbo mode (with speed display)
GBC-style selectable color palettes for Game Boy games
Customizable controls
Émule le matériel de la Game Boy originale (sauf audio et link)
Émule la RTC (horloge) pour certaines cartouches
Save-states (enregistrement d'etats) avec compression
Plein écran et modes de mise à l'échelle 1:1 (avec skin optionnel)
Frameskip automatique et manuel
Mode Turbo (avec affichage de la vitesse)
Palettes de couleurs GBC sélectionnables pour les jeux Game Boy
Contrôles personnalisables
Voici à quoi ça ressemble...

Les couleurs que vous voyez sont dues au fait qu'il est possible de choisir une palette pour avoir un meilleur visuelle que du niveau de gris

Mais cela dit, il n'est pas exclu qu'un jour calc84 travaille sur une version
Game Boy Color
de l'émulateur, il a déjà préparé le terrain pour une éventuelle évolution afin de ne pas avoir à tout refaire... !
En tout cas, si vous trouvez des bugs, n'hésitez pas à les remonter
sur GitHub
.
Bonne découverte/émulation/nostalgie
/Pokémon
, et
merci calc84
!
Par ailleurs, nous ferons une autre news potentiellement plus poussée à l'occasion de la sortie d'une version finale / plus stable

Téléchargement
:
TI-Boy CE
(convertisseur de ROM disponible dans le téléchargement ainsi qu'
en ligne
)