Cela pourrait aussi être bien de le rajouter "nativement" sur TI-Nspire CX CAS



Ti64CLi++

Modo


Niveau 15: CC (Chevalier des Calculatrices)
Posts: 3124
Images: 61
Joined: 04 Jul 2014, 14:40
Location: Valence 26
Gender:

Calculator(s):

Class: 1°S-SVT
GitHub: Ti64CLi
---
Ti64CLi++ wrote:Cela pourrait aussi être bien de le rajouter "nativement" sur TI-Nspire CX CAS
Il y a déjà le LUA, je doute qu'ils rajoutent un autre langage. Même si le LUA n'est pas aussi populaire que le Python.
gam wrote:Ça, ça m'intéresse beaucoup!
Juste deux questions:
-Est-ce que Python sur TI-83 pce sera identique à Python sur ordinateur, ou y-aura t-il des différences?
-Pour avoir Python, il faudra téléchargé un nouvel OS sur la calto ou il faudra en acheter une nouvelle?
Tu peux toujours leur demander par mail

Après, j'imagine qu'il y aura forcément quelques différences...
Et je pense qu'il sera soit inclu dans l'OS, soit sous la forme d'une application (mode examen proof, j'espère) téléchargeable.
Nouveau sur le site,
Anonymous
? Avant de poster sur le chat et sur le forum, n'oublie pas de
. En cas de problème, tu peux
m'envoyer un message
, je réponds rapidement.
Liens utiles:

Découvre mes programmes, ma chaîne Youtube et mon site!

Wistaro

Modo.G


Niveau 15: CC (Chevalier des Calculatrices)
Posts: 2786
Images: 37
Joined: 25 Feb 2013, 16:21
Location: Toulouse
Gender:

Calculator(s):

Class: Etudiant ingénieur (Ex TS - SI)
YouTube: Wistaro
Twitter: @Wistaro
GitHub: Wistaro
---
critor wrote:dernières TI-83 Plus avec carte mère TI-84 Plus

Really? I didn't know that. Can you install 2.55 on them?

parrotgeek1

Prog.


Niveau 11: LV (Légende Vivante)
Posts: 735
Joined: 29 Mar 2016, 01:22
Location: USA
Gender:

Calculator(s):

Class: university student
GitHub: parrotgeek1
---

I meant the latest TI-83 Plus
.fr
are coming with a TI-84 Plus SE PCB.
They're already running OS 2.55MP :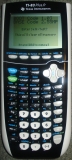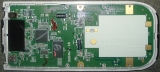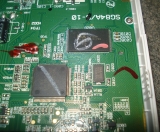 critor

Admin.


Niveau 18: DC (Deus ex Calculatorum)
Posts: 32088
Images: 8369
Joined: 25 Oct 2008, 00:00
Location: Montpellier
Gender:

Calculator(s):

Class: Lycée
YouTube: critor3000
Twitter: critor2000
Facebook: critor.ti
---
Source additionnelle
confirmant officiellement la chose :
http://www.ludovia.com/2018/05/parler-e ... invention/
(TI nous a mis au courant de l'article, donc c'est pas du pipeau, si certains doutaient encore

)

Adriweb

Admin.


Niveau 16: CC2 (Commandeur des Calculatrices)
Posts: 12358
Images: 1079
Joined: 01 Jun 2007, 00:00
Location: France
Gender:

Calculator(s):

Class: (ingénieur)
Twitter: adriweb
GitHub: adriweb
---
Ils sont lent à la détente.


Hamza.S

Admin.


Niveau 17: GM (Grand Maître des calculatrices)
Posts: 3354
Images: 17
Joined: 07 Nov 2014, 00:43
Gender:

Calculator(s):
---

En effet, on leur avait dit dès 2013.
Bien sûr, sur les TI-eZ80, l'env de développement hideux de Zilog ne facilite pas les choses. Mais sur les Nspire (CX), il n'y a pas d'excuse, ça a été fait de manière non officielle sans devoir y passer un effort significatif.

Lionel Debroux

Modo.G


Niveau 14: CI (Calculateur de l'Infini)
Posts: 6255
Joined: 23 Dec 2009, 00:00
Location: France
Gender:

Calculator(s):

Class: -
GitHub: debrouxl
---
Eh bien ceux qui rentrent en seconde auront le python pour le bac 2020 , donc pas un mauvais choix non plus ?

Niveau 0: MI (Membre Inactif)
Posts: 94
Joined: 16 Feb 2018, 05:37
Gender:

Calculator(s):
---

Pour les élèves qui rentrent en seconde, tout à fait.
Pour les élèves qui seront en terminale en 2018-2019 et qui n'ont pas encore de machine (ce n'est pas si rare que ça, c'est en partie pour ça que la mise en place du mode examen en France a été repoussée d'un an), en revanche, les TI-eZ80 - et les autres calculatrices TI, d'ailleurs - ne seront pas un choix possible pour le Python pendant l'année scolaire 2018-2019 et surtout pour le bac 2019, à cause du foutu mode examen. Et là, TI va rater des ventes.

Lionel Debroux

Modo.G


Niveau 14: CI (Calculateur de l'Infini)
Posts: 6255
Joined: 23 Dec 2009, 00:00
Location: France
Gender:

Calculator(s):

Class: -
GitHub: debrouxl
---
Ou alors, il faudrait qu'il n'y ait pas de mode examen au bac 2019



Ti64CLi++

Modo


Niveau 15: CC (Chevalier des Calculatrices)
Posts: 3124
Images: 61
Joined: 04 Jul 2014, 14:40
Location: Valence 26
Gender:

Calculator(s):

Class: 1°S-SVT
GitHub: Ti64CLi
---
---
Return to News TI-z80 (TI-73, 76, 80, 81, 82, 83, 84, 85, 86)
Users browsing this forum: No registered users and 9 guests