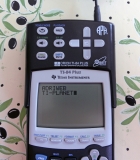 Salut à tous,
Vous avez peut-être lu il y a peu
la news
sur le test / prise en main de la TI-84 Plus Orion, et peut-être aussi avez vous pensé, si vous avez un esprit programmeur, à détourner quelque peu l'usage du module Orion pour … pouvoir lui faire sortir des sons bien contrôlés

Bien sûr, pour le moment, on peut penser à lui faire lire des nombres et des mots, ce qui n'est pas très difficile et qui a été montré dans la vidéo sur la news liée ci-dessus.
Mais…. déjà sur les traditionnelles TI-83+ et 84+, certains programmeurs avaient sorti des solutions
relativement simples
ou
plus complexes mais réalistes
pour obtenir de la musique à partir de la calculatrice via le port I/O Jack 2.5mm.
Bref, il y a toujours eu une certaine envie, de la part des programmeurs encore plus bidouilleurs que d'habitude, d'offrir une nouvelle dimension à leurs créations, et en général pour ceux que ça amuse, pouvoir épater ses amis avec de la musique qui sort de la calculatrice

Voici donc une musique dont je n'aurai je pense pas à mentionner le nom, que j'ai réussi à "composer" en pensant au fait que la calculatrice émet un son quand elle "lit" un graphique :
Vous m'excuserez pour les quelques fausses notes, je les ai certes entendues aussi, mais… je ne peux pas faire mieux, ou du moins avec ce procédé. En effet, la hauteur du son émis dépend directement de l'ordonnée du pixel, mais la variation n'est pas par demi-ton comme dans nos
gammes tempérées
traditionnelles, en effet, le sons augmentent de quelques
commas
à chaque fois, et l'on arrive donc pas sur une note bien définie à chaque fois… J'ai donc pris les "notes" les plus proches, ce qui dérangeront peut-être certains qui ont l'oreille fine comme moi, mais qui n'empêchera pas pour autant de reconnaître le thème de Mario

Pour les détails techniques côté calculatrice :
- La calculatrice lit le pixel courant en émettant un son correspondant à sa hauteur (coordonnée y). Il fallait donc trouver un moyen pour sauter d'une hauteur à une autre (ne pas passer par les hauteurs intermédiaires)
- Tracer un graphique en mode Plot avec une liste de points permet ceci

En mode trace avec un plot dessiné, se déplacer avec les flèches gauche/droite saute de point en point et donc permet de passer d'une hauteur à une autre directement
- Il suffit donc de définir une liste (ici, L2) des ordonnées représentant les notes (leur hauteur), et dans L1 la simple liste des valeurs de X (un simple
seq(a,a,1,dim(L2->L1
suffit)
Les notes (liste des ordonnées, donc) pour Mario : 39,39,39,33,39,44,25,33,25,21,29,32,29,27,26,39,44,47,41,44,40,34,37,32,14,44,42,41,38,40,27,29,34,29,34,37,14,44,43,41,38,39,52,52,52,14,44,42,41,38,40,27,29,34,29,34,37,38,37,34,34,34,34,34,37,39,34,28,25,39,39,39,33,39,44
Obstacles techniques :
- On est limité à 95 points donc 95 notes, par Plot. On peut donc avoir 285 notes au total en combinant les 3 Plot avec 3 listes d'ordonnées (pour passer d'un plot à l'autre, il faut utiliser les flèches haut/bas)
- Ce n'est pas avec cette méthode que l'on peut avoir du rythme (sur la vidéo, vous voyez que je fais ça manuellement). Peut-être avec le programme de Xeda (IIRC) qui permet d'exécuter une suite de touches au clavier pour automatiser le processus ? Ou peut-être avec un autre moyen que je n'ai pas encore trouvé via des programmes basic pour faire afficher un point qui sera lu… (je n'ai pas encore bien cherché, je vous l'accorde).
- Ce n'est pas non plus comme cela que l'on obtiendra plusieurs notes à la fois.
Mais bon, il suffit d'acheter plusieurs Orion ….

A bientôt pour plus d'expériences … farfelues ?

Hi everyone,
You may have read our
recent news
about the hand-on review of the Orion TI-84 Plus, and… maybe you thought if you're a programmer especially, about the not-so-normal possible uses of the Orion module, for example user-controlled sound output ?

Of course, for now, one can think about making it read numbers and words, which is not very difficult and it was shown in the video on the news linked above.
But .... already on the traditional TI-83+ and 84+, some programmers have released solutions from
relatively simple
to a bit
more complex but realistic
in order to get music from the calculator via the 2.5mm Jack I/O port.
Anyway, there has always been some joy for the programmers to tinker with that, maybe especiallly for the ones more hackers than others, for offering a new dimension to their creations, and in general for those who want to impress their friends with music coming out of their calculator

Here is a music whose name I won't probably need to state, which I was able to "compose" when thinking about the fact that the calculator has the ability to "read graphs" :
You'll have to excuse me for a few false notes, I certainly heard them too, but ... I can't actually do better, or at least with this method. Indeed, the height of the sound depends directly on the y-coordinate of the pixel, but the change is not by semitone as in our traditional
tempered scales
; in fact, the increase in pitch of the sounds are done by a few
commas
and therefore we don't always get on a well-defined note ... I put the closest ones, which may bother some who have a good ear like me, but it won't prevent anyone from recognizing the Mario theme

For technical details on the calculator side :
- The calculator reads the current pixel with a sound corresponding to its height (y-coordinate). I had to find a way to jump from one height to another (not going through the pixels in between)
- To do that, we can draw a graph in Plot mode with a list of points

In Trace mode with a plot drawn, moving with the left / right arrow jumps from point to another and thus switches from a height to another directly !
- So : just define a list (here, L2) of y-coordinate representing the notes (pitch), and L1 the simple list of X values ​​ (a trivial
seq(a,a,1,dim(L2->L1
will suffice)
Mario's notes (y-coordinates) are : 39,39,39,33,39,44,25,33,25,21,29,32,29,27,26,39,44,47,41,44,40,34,37,32,14,44,42,41,38,40,27,29,34,29,34,37,14,44,43,41,38,39,52,52,52,14,44,42,41,38,40,27,29,34,29,34,37,38,37,34,34,34,34,34,37,39,34,28,25,39,39,39,33,39,44
Some technical obstacles :
- You are limited to 95 points, so 95 notes, for each Plot. We can thus have 285 notes in total by combining 3 Plots with 3 ordered lists (to go from one to the other, use the up / down arrows)
- It is not with this method that we can have rhythm (on the video, you see that I'm doing it manually). Perhaps with the program Xeda made (IIRC), it can perform a sequence of keystrokes to automate the process ? Or maybe with another way I have not yet found via basic programs to display a point to be read ... (granted, I have not yet tried much).
- It is not like this that we get several notes at once.
But hey, just buy several Orion .... : troll:
See you soon for some more … peculiar experiments ?