Released a few months ago apparently, after the news and critor's requests


Adriweb

Admin


Niveau 16: CC2 (Commandeur des Calculatrices)
Posts: 13246
Images: 1090
Joined: 01 Jun 2007, 00:00
Location: France
Gender:

Calculator(s):

Class: (ingénieur)
Twitter: adriweb
GitHub: adriweb
---

Thanks !

I'm checking.


critor

Admin


Niveau 19: CU (Créateur Universel)
Posts: 36908
Images: 10232
Joined: 25 Oct 2008, 00:00
Location: Montpellier
Gender:

Calculator(s):

Class: Lycée
YouTube: critor3000
Twitter: critor2000
Facebook: critor.ti
GitHub: critor
---

Just newsed about the 1.03 version :
viewtopic.php?f=110&t=22439&p=240851#p240851
They fixed the slowness of changing the selected icon in the home menu.
The menu refresh after pressing an arrow key used to take ~1s as reported in our first test.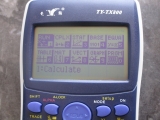 Also, they added a logo shown when the calculator is turned on/off :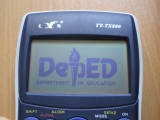 So
"Department of EDucation"
, another institution.
No mention of a country, but it seems to be from Philippines according to the logo :
https://en.wikipedia.org/wiki/File:Department_of_Education_(DepEd).svg
No connection with the 2 other institutions already mentioned without a country at the back of the box and guidebook :
"Ministry of Education Research"
and
"Center for Educational Equipment"
, which were thus assumed to be from China since Tianyan is chinese.
And now come Philippines... very suspect in my opinion.
An institution really taking part in this great calculator development would probably have asked for
accurate
credits, and not something which can refer to many institutions worldwide, in each buyer country. Marketing lie ?


critor

Admin


Niveau 19: CU (Créateur Universel)
Posts: 36908
Images: 10232
Joined: 25 Oct 2008, 00:00
Location: Montpellier
Gender:

Calculator(s):

Class: Lycée
YouTube: critor3000
Twitter: critor2000
Facebook: critor.ti
GitHub: critor
---
---
Users browsing this forum: No registered users and 1 guest