Cesium
File hierarchy
Downloads
Uploaded files
(

14766

)
TI-83 Premium CE / 84+CE / 82APy
(1881)

---

Utilitaires Kernels
(5)
Download
Télécharger
Licence

License

: BSD

Télécharger
Download
(ext.)
Screenshot
Aperçu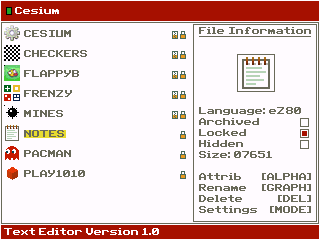 Informations
Auteur

Author

:
MateoConLechuga
Type :
Assembleur
Mis en ligne

Uploaded

:
07/10/2015 - 03:03:01
Mis à jour

Updated

:
22/05/2016 - 04:00:13
Téléchargements

Downloads

:
8137
Visibilité

Visibility

:
Archive
publique
Shortlink

:
http://ti-pla.net/a320019
Via

Via

:


ATTENTION ! Si votre TI-83 Premium CE ou TI-84 Plus CE (Edition Python ou non), a l'OS 5.5 ou plus, vous ne pouvez plus lancer des programmes/jeux ASM directement ; il vous faudra d'abord lancer le jailbreak arTIfiCE.
WARNING ! If your TI-83 Premium CE or TI-84 Plus CE (Python Edition or not) has OS 5.5 or later, you will no longer be able to launch ASM programs/games ; you will first need to run the arTIfiCE jailbreak.
Description
Tout premier shell pour les calculatrices CE :)
Fonctionnalités:
Lancement de programmes ASM, C, et Basic directement, et qu'ils soient archivés ou non
[Dés]Archivage, suppression, renommage, et masquage de programmes
Accès rapide à un programme en tapant sa première lettre (≈ catalogue)
Possibilité de bloquer la touche ON dans les programmes Basic
Support des bibliothèques partagées "relocatable" en C et ASM
Icônes personnalisables pour tous les types
Indicateur de batterie et horloge
Couleurs/Thème personnalisable
...
__________________________________
Features:
Features:
Running ASM, C, and Basic programs directly, and they can be archived or not
[Un]Archiving, deleting, renaming, and hiding programs
Catalog-like searching for programs for quick lookup
Ability to block the [ON] key when running Basic programs
Support implemented for relocatable shared C and ASM libraries
Customizable icons for all file types
Battery indicator and clock
Customizable colors/theme
Available in French and English
...
___________________________________
Source code:
https://github.com/MateoConLechuga/Cesium