meXact: bibliothèque calcul exact (Nspire basique)
File hierarchy
Downloads
Uploaded files
(

13973

)
TI-Nspire
(2456)

---

Maths
(399)
Download
Télécharger
Licence

License

: Creative Commons 2.0 BY-SA-NC

Télécharger
Download
Informations
Auteur

Author

:
Xavier Andréani
Type :
Classeur
Taille

Size

:
1.83
Mo
MB
Mis en ligne

Uploaded

:
18/06/2010 - 19:07:38
Mis à jour

Updated

:
01/01/2012 - 10:31:11
Uploadeur

Uploader

:
critor
(
Profil
)
Téléchargements

Downloads

:
6636
Visibilité

Visibility

:
Archive
publique
Shortlink

:
http://ti-pla.net/a1884
Description
La bibliothèque meXact ajoute un moteur de calcul exact aux TI-Nspire basiques.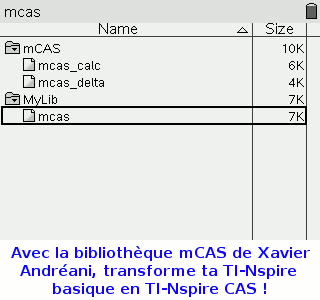 Note for use during exams prohibiting CAS:
This library was previously known as mCAS, which could lend to confusion and has been renamed.
'mCAS' did stand for "mini-CAS", in the way that the library did allow to add on non-CAS TI-Nspire handhelds a functionality present only on TI-Nspire CAS handhelds, the exact calculation engine.
But the library does not contain any CAS engine and is therefore unable to perform formal/symbolic calculation.
The exact calculation engine is available on many recent scientific calculators with dot-matrix screen (TI-30XB MultiView, TI-30XS MultiView, TI-34 MultiView , TI-36X Pro, TI-College Plus) and those calculators aren't CAS calculators.
The exact values ??obtained here come from my own algorithms working with the numeric calculation engine from every TI-Nspire.
So in my opinion, the meXact library can be used during exams prohibiting CAS.
Note pour l'utilisation lors d'examens interdisant le CAS:
Cette bibliothèque était anciennement nommée mCAS, ce qui pouvait prêter a confusion et a donc été renommée.
'mCAS' venait de "mini-CAS", au sens où la bibliothèque permettait d'ajouter sur les calculatrices TI-Nspire numériques une fonctionnalité présente uniquement sur les calculatrices TI-Nspire CAS, le moteur de calcul exact.
Mais la bibliothèque ne contient aucun moteur de type CAS et ne fait donc aucun calcul formel ou littéral.
Le moteur de calcul exact est présent sur nombre de calculatrices scientifiques récentes à écran matriciel (TI-30XB MultiView, TI-30XS MultiView, TI-34 MultiView, TI-36X Pro, TI-Collège Plus) sans que celles-ci ne soient non plus qualifiées de calculatrices CAS.
Les valeurs exactes sont ici obtenues par des algorithmes de ma composition travaillant avec le moteur numérique de toute TI-Nspire.
A mon sens si vous devez donc passer un examen interdisant les calculatrices CAS, la bibliothèque meXact ne va pas de tout à l'encontre de cette interdiction.
Le moteur actuel gère plus d'une 20aine de formes exactes, du collège à l'enseignement supérieur: fractions, radians et mesure principale, radicaux, logarithmes, exponentielles, binômes divers, nombres complexes et forme exponentielle...
2 classeurs-tutoriaux sont fournis.
Le 1er émule une calculatrice virtuelle exacte. Un onglet spécial permet même de bénéficier d'une écriture naturelle (PrettyPrint ou MathPrint) pour le dernier résultat!!!
Le 2ème classeur recherche sous forme exacte les racines d'un polynôme du second degré, même les cas d'un discriminant négatif ou de coefficients complexes!
Pour plus d'informations, regardez le petit tutoriel détaillé de 10 minutes ci-dessous, la documentation dans l'archive, et le premier onglet de chaque classeur sur calculatrice.
N'attendez plus, franchissez le pas: upgradez votre TI-Nspire basique grâce à la bibliothèque meXact !
Archive contents
Contenu de l'archive
Action(s)

Size

Taille

File

Fichier

21.94

Ko

KB

mCAS/licence(fr).txt
18.00

Ko

KB

mCAS/license(en).txt
8.42

Ko

KB

mCAS/lisezmoi.html
7.92

Ko

KB

mCAS/lisezmoi.txt
24.63

Ko

KB

mCAS/mcas-pub.jpg
83.88

Ko

KB

mCAS/mcas-screenshot-fixed.gif
2.25

Mo

MB

mCAS/mcas-screenshots-animated.gif
6.64

Ko

KB

mCAS/mcas.tns
5.88

Ko

KB

mCAS/mcas_calc.tns
663

octets

bytes

mCAS/source.txt
3.30

Ko

KB

mCAS/mcas_delta.tns
News articles referring to this archive
News mentionnant cette archive
Selection(s) having this archive
Sélection(s) contenant cette archive