DowngradeFix 3.9 (Nspire CX / CX CAS)
File hierarchy
Downloads
Uploaded files
(

14251

)
TI-Nspire
(2458)

---

Utilitaires
(346)
Screenshot
Aperçu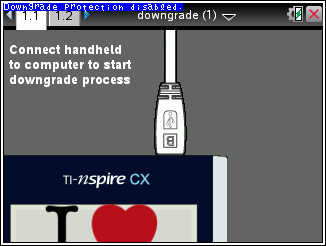 Description
Lets you downgrade your TI-Nspire CX (CAS or not) from OS version 3.9 to 3.6, making you able to install Ndless 3.6, for example.
More info in the Readme and tutorial.
Vous permet de downgrader votre TI-Nspire CX (CAS ou non) de la version système 3.9 à 3.6, et donc vous permet d'installer Ndless 3.6, par exemple.
Plus d'infos dans le Readme et le tutorial.
(not compatible with the CX CAS 3.9.1)
->

TUTORIAL

<-
Archive contents
Contenu de l'archive
News articles referring to this archive
News mentionnant cette archive